Terms and Conditions
GTC FOR ALL ORDERS
Terms of sale, delivery and payment
1. Providers and contractual partners
Your contractual partner for all orders in our webshop:
Arnold Classic GmbH
Rodenberger Str. 7
31867 Lauenau
Еmail: shop@arnold-classic.com
Web: shop. arnold-classic.com
Managing Director: Bernhard Arnold
USt-IdNr.: DE815633559
Trade register: HRB 200689, District Court Stadthagen
2. Scope of application and subject matter of the contract
2.1 The following General Terms and Conditions ("GTC") apply to account registration and all purchases of goods by the end customer ("you") via the online shop shop.arnold-classic.com
2.2 These GTC exclusively regulate the contractual relationship between you and us. Your terms and conditions will not become part of the contract even if we do not expressly object to their inclusion.
2.3 These General Terms and Conditions can be called up at any time at the address shop.arnold-classic.com/agb and can be printed out and downloaded.
3. Registration
3.1 Registration is required for shopping in the online shop. This can be done as part of the ordering process, but also independently of an order. After registration, we create an account for you, via which you can manage your customer data, such as the delivery address, yourself.
3.2 Only legally and legally competent natural persons, legal persons and partnerships should register. This requirement also applies to the execution of orders. If a registration is made for a company as a customer, the person guarantees that he is entitled to represent the company.
3.3 When registering your account, you must enter your name, billing and delivery address, telephone number and e-mail address and choose a password (hereinafter referred to as "access data").
3.4 You submit a binding account registration offer by submitting the completed registration form.
3.5 Following the complete registration, we will send you a welcome e-mail. The account registration is completed by accessing this e-mail with you.
3.6 You are responsible for ensuring that the information you provide to us during registration is true and complete. If you provide incorrect or incomplete information, we are entitled to terminate and delete your account without observing a deadline. You undertake to inform us of all future changes to your data provided during registration without being requested and without delay.
3.7 The account may be terminated in accordance with section 12. Your personal data will then be deleted immediately, unless we may or must continue to store it due to legal regulations. More details can be found in our privacy policy.
3.8 Under no circumstances are you entitled to pass on your access data and in particular your access password to third parties. If third parties still gain access to your account or you have other indications of misuse of your account, you must inform us immediately and change your access data.
3.9 There is no entitlement to registration and participation in the online shop. You are not entitled to register several times on shop.arnold-classic.com.
4. Conclusion of the purchase contract
4.1 The conclusion of a contract for the purchase of a product takes place as follows:
4.1.1 In order to initiate the ordering process, you must first place the desired article in the shopping cart by clicking on the respective button.
4.1.2 Before the order is finally sent via the contents of the shopping cart, the entire content of the order is displayed again. You can then change your order again. Your orders will be stored with us after conclusion of the contract, but can no longer be retrieved by you after completion of the ordering process. Therefore, please check your order carefully before clicking on the "Buy now" button.
4.1.3 For all payment methods, you make a binding offer to conclude a purchase contract by clicking on the button "Buy now" in the shopping cartview. The posting of the products in the online shop is not yet a binding offer for the conclusion of the contract. We confirm receipt of the order by e-mail. The confirmation e-mail is not yet the acceptance of your offer. The purchase contract is only concluded with shipping confirmation
4.2 You can print out your order data immediately after submitting your order. If you would like to view your documents for your orders again, please contact us by e-mail or telephone. We will be happy to send you a copy of the data for your order.
4.3 Changes to an order are possible before it has left our warehouse or has been handed over to a forwarding agency (i.e. before assigning a shipment number and sending the shipping confirmation by e-mail). Your statutory warranty rights and the right of revocation are not affected by this.
4.4 We also reserve the right to withdraw from the contract if the goods are not in stock without our culpable intervention from a carefully selected and reliable supplier (reservation of self-delivery). In such a case, we undertake to inform you immediately about the unavailability of the goods and to refund any payments made immediately.
5. Exchange items
5.1 Exchange items are goods that are covered in the order information with a deposit value (e.B. generator), which you must pay additionally when buying. After receiving an exchange item, please send the defective, complete old part from your car back to us and inform us of your bank details so that the deposit value paid can be repaid to you. Old car parts must be shipped to us at your expense.
5.2 Please ensure complete emptying of liquids for brake calipers, power steering and power pumps. The old parts must be in a reprocessable condition. Old parts must not have any breaking points.
5.3 If old parts are returned that have breaks in the housing, a breakage of the PTO shaft or differences in current / power, no refund of the deposit can be paid.
5.4 Exchange items are, for example:
Servo pump, steering gear, starter, generator, caliper, drive shaft, injector, high pressure pump, battery.
6. Shipping and delivery
6.1 Cost: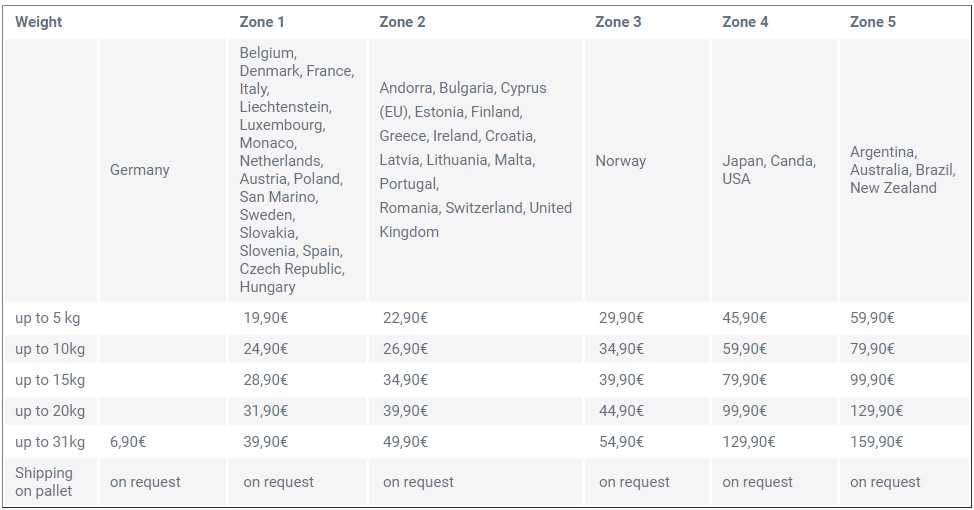 The shipping costs are automatically calculated in the shopping cart once you have selected your delivery country. The table gives you an overview.
All delivery times apply from receipt of payment. Shipments on pallets have separate delivery times.
Shipping is from Germany, Monday to Friday. Holidays excluded.
Bulky items: Long or particularly large (e.g. rocker panels, center exhaust pipe, etc.)
DPD surcharge €15.00
DHL surcharge €25.00
Shipping cannot be calculated automatically for oversized items (e.g. rear axles, fenders, hoods, etc.). When ordering, please select the payment method "payment in advance" and the shipping method "shipping on pallet". We will then inform you immediately of the shipping costs. Until then, you will not be charged anything and you can withdraw from the purchase if the shipping is too expensive for you. Alternatively, you can also contact us in advance by e-mail, we calculate the shipping costs based on your delivery address. You are also welcome to pick up the items from our warehouse.
Delivery:
"In stock"
The item is in stock. Items with this availability status will be shipped within 1-2 business days of receipt of payment.
"Currently out of stock"
The item cannot be ordered: it is no longer in stock or has been taken out of the range. You can order a similar item from another manufacturer.
The delivery time depends on the availability of goods. Please note the status on the respective product page.
No delivery on public holidays.
7. Transfer of risk, transport risk - For corporate customers:
The risk of accidental sinking and accidental deterioration of the thing passes to you when the item is dispatched, if the thing is handed over to the person carrying out the transport or if the goods have left our warehouse for the purpose of dispatch. The decisive factor is the earlier event.
8. Receipt of the goods /transport damage
8.1 To send your order, we use, among other things, parcel services. Should a delivery of goods arrive damaged, we would like to ask you for the following: If possible, complain the damaged goods directly to the employee of the parcel service and document the degree and extent of damage. Your warranty rights will not be restricted or affected by this.
8.2 You may refuse to accept damaged goods. Please contact us immediately in case of delivery of a damaged item by phone, e-mail or in person at the aforementioned addresses. They help us to enforce our claims against the parcel service and at the same time to improve the service towards you.
9. Prices and payment methods
9.1 We offer you various payment methods for paying for the purchased goods. The specific payment modalities can be found on the respective product page.
9.2 All prices in our online shop are indicated in EUR and include the statutory value added tax. All prices are ex stock including packaging and plus all resulting shipping and, if necessary, cash on delivery costs.
9.3 The price of the goods is valid at the time of the order and is listed in the order confirmation, which you will receive immediately after the order by e-mail. If items are stored in the shopping cart, their total price is updated to the current daily price during the ordering process.
9.4 In the case of purchase contracts between you and us, the total amount to be paid including shipping costs is due immediately. You agree that you will receive invoices exclusively in electronic form.
9.6 Please note that for secure payment, the necessary identity documents, information about your account/credit card and the comparison of the delivery address can be requested. This is for your security only, whereby the data is routed via a secure connection and not transferred to third parties. The processing time of an order may be extended in this case. If the requested information is not provided, the order will be cancelled and the costs will be reimbursed on the same means of payment that you chose when placing your order. In such a case, the goods will not be shipped and the offer submitted by you will be deemed rejected.
10. Default/right of retention
10.1 If you are in default with the payment, we reserve the right to charge you reminder fees for necessary reminders, unless you prove to us that the costs for the reminders did not arise at all or are significantly lower than the claimed dunning fees. The dunning fees per reminder are EUR 2.50. Insofar as the reminder is not dispensable in accordance with § 286 abs. 2 BGB, you will not incur any costs for the first reminder.
10.2 In addition, we are entitled to claim interest in the amount of five (5) percentage points and by entrepreneurs in the amount of nine (9) percentage points above the applicable base interest rate in the event of default of payment by consumers.
10.3 The assertion of further damage caused by delay is not excluded by the assertion of dunning fees and/or interest claims.
10.4 You can only set off claims against us or assert a right of retention if your counterclaim is undisputed, if there is a legally binding title or if the counterclaim exists in a synallagmatic relationship to the claim concerned.
11. Retention of title
11.1 In order to secure our purchase price claim against you, we reserve the ownership of all delivery items until full purchase price payment.
11.2 You are obliged to treat the goods under retention of title with care.
11.3 The goods under retention of title may neither be pledged to third parties nor transferred to security before full payment of the secured claims. You must notify us immediately in writing if and to the extent that third parties access goods belonging to us take place.
11.4 If you are an entrepreneur, the following also applies:
11.4.1 We reserve the right to own all delivery items until all our current and future claims from the purchase contract and from an ongoing business relationship with you ("secured claims") until all our current and future claims have been settled in full.
11.4.2 Insofar as the realizable value of our securities exceeds the secured claims by more than 10%, we are obliged to release the securities at your request. We make the selection of the securities to be released.
11.4.3 The processing or transformation of the delivered goods by you is always carried out for us. If the delivered goods are processed with other items that do not belong to us, we acquire co-ownership of the new thing in proportion to the value of the delivered goods (invoicing final amount including VAT) to the processed items at the time of processing. For the thing resulting from processing, the same applies as for the goods delivered under reservation.
11.4.4 If the delivered goods are inseparably mixed with other items that do not belong to us, we acquire co-ownership of the new thing in proportion to the value of the delivered goods (invoice final amount including VAT) to the other mixed items at the time of mixing. If the mixing takes place in such a way that your thing is to be regarded as the main thing, it is considered agreed that you transfer co-ownership to us proportionately. They keep the resulting sole ownership or co-ownership for us.
12. Duration, blocking and termination of the account
12.1 The contract for account registration is concluded for an indefinite period.
12.2 You can cancel the account registration at any time without observing a deadline.
12.3 We can terminate the account registration properly with a notice period of two weeks.
12.4 The right to terminate without notice for good cause remains unaffected. In particular, we may terminate the account registration without notice if:
- you provide incorrect or incomplete information during registration,
- You repeatedly violate other contractual obligations and do not refrain from breach of duty even at the request of us.
12.5 Insofar as we have terminated the account registration, you are not entitled to set up a new account, not even under a different name or name.
12.6 Any termination must be made in writing. Terminations by e-mail preserve the written form.
13. Warranty
13.1 The statutory provisions shall apply to your rights in the event of material and legal defects, unless otherwise specified below.
13.2 Against consumers, the warranty rights for new items expire within two years, for used items within one year from the transfer of risk.
13.3 In the event of a warranty, you are entitled, at your discretion, to assert a right to remedy defects or to deliver defect-free goods (subsequent performance). If the chosen type of subsequent performance is associated with disproportionately high costs, the claim is limited to the remaining type of supplementary performance. We will point this out to you if necessary.
13.4 If you claim installation and removal costs with regard to the replacement of a part newly delivered by us in the course of material defect liability in a workshop, we ask you to submit the original documents to us, since in the event of recognition as a warranty case, the workshop service will be reimbursed by us. Please make sure that only work that is directly related to the rectification of defects is indicated on the invoice (i.e. no external services on the invoice). Furthermore, the work values should be shown with a breakdown of the time hours.
13.5 Towards entrepreneurs as buyers, liability for defects in used goods is excluded. This does not apply to gross negligence or intent. In the case of new items, the warranty rights expire within one year after the transfer of risk.
13.6 Merely clarifying, we would like to point out that the following circumstances do not justify any material defect if they are the cause of the error picture:
- natural wear,
- improper use,
- lack or incorrect care of the goods,
- inappropriate or improper use,
- Incorrect assembly, especially if the ordered part is obviously not the right one,
- non-observance of application instructions,
- Incorrect treatment.
14. Verification of the accuracy of fit
We would like to point out that, despite all due care, incorrect deliveries can occur in individual cases. You are therefore obliged to check on sight by comparison with the replaced original part before installing a purchased item whether the ordered part is actually the right one for your vehicle (e.g. conformity of boreholes and connections). If the purchased part visibly differs in its dimensions, shape or material from the replaced original part, please contact us first for further clarification before an installation or an adjustment or transformation (e.B. painting) of the purchased part takes place. Your warranty claims are not affected by this regulation.
15. Manufacturer's warranties
If there is a special manufacturer's warranty that you can claim in addition to the warranty, this will be indicated in the respective product description. This warranty is only valid for the respective product and your claims are based on the respective warranty conditions of the manufacturer and exist exclusively against him.
16. Liability for damages of the seller
16.1 We are liable for intent and gross negligence as well as for damages resulting from injury to life, limb or health without limitation.
16.2 In cases of slight negligence, we are liable for violation of a substantial contractual obligation. An essential contractual obligation within the meaning of this paragraph is an obligation whose fulfillment makes the execution of the contract possible in the first place and on the fulfillment of which the contractual partner may therefore regularly rely.
16.3 In the case of section 16.2, we are not liable for a lack of economic success, loss of profit and indirect damages.
16.4 The liability in accordance with section 16.2 above is limited to the damage typical and foreseeable at the time of conclusion of the contract.
16.5 The limitations of liability apply accordingly in favour of our employees, agents and vicarious agents.
16.6 Any liability for guarantees given by us and for claims on the basis of the Product Liability Act remains unaffected.
16.7 Otherwise, liability on our part is excluded.
17. Online dispute resolution: Information pursuant to Art. 14 para. 1 REGULATION 2013/524/EU Consumer Arbitration
For online dispute resolution (OS), the European Commission provides a platform, which can be found under http://ec.europa.eu/consumers/odr/. Our company is generally not willing and not obliged to participate in a dispute resolution procedure before a consumer arbitration board.
18. Consumer arbitration: Information according to § 36 VSBG
18.1 We do not participate in a dispute resolution procedure before a consumer arbitration board. Nevertheless, the legal situation requires that we point you to a consumer arbitration board responsible for you:
18.2 Allgemeine Verbraucherschlichtungsstelle des Zentrums für Schlichtung e.V., Straßburger Straße 8, 77694 Kehl am Rhein, Telefon: 07851 / 795 79 40, Fax: 07851 / 795 79 41, E-Mail: mail@verbraucher-schlichter.de, Internet: www.verbraucher-schlichter.de.
19. Final provisions
19.1 The law of the Federal Republic of Germany shall apply to this contract to the exclusion of the UN Sales Convention. This does not apply to consumers in relation to such provisions, which are mandatory under the law that would be applicable without this clause (i.e. usually the country where the consumer has his main residence) and from which no derogation may be made by agreement.
19.2 The exclusive place of jurisdiction for all disputes arising from or in connection with this contract is Stadthagen, provided that the contracting parties are merchants or you do not have a general place of jurisdiction in Germany or in another EU member state or have moved your permanent residence abroad after these terms of use have taken effect or the domicile or habitual residence is not known at the time the action is brought.
19.3 We are entitled to change or adapt these terms during the term of the contract with effect for the future, if this becomes necessary for a compelling reason, such as the change of laws or case law. We will send you the amended conditions in text form before the planned entry into force and draw particular attention to the new regulations and the date of entry into force. At the same time, we will give you a reasonable period of at least four (4) weeks to determine whether you accept the amended Terms of Use for the continued use of the Services. If no declaration is made within this period, which begins to run in text form from receipt of the message, the amended conditions shall be deemed to have been agreed. At the beginning of the period, we will draw your attention separately to this legal consequence, i.e. the right to object, the opposition period and the significance of silence. This amendment mechanism does not apply to changes in the parties' main contractual obligations.
19.4 The legal invalidity of individual provisions does not affect the binding nature of the remaining clauses.
19.5 The contract language is german.
Stadthagen, 19.08.2022